La Rioja, Spain.
Casting on Rio Najerilla
I guess that like many European fly-fishermen I thought that Spain was a place for beaches, sunshine and wine. I never gave fly fishing a thought until I was invited to visit La Rioja in Northern Spain to join a party of international anglers and fish the beautiful Rivers Najerilla and Iregua that cascade from the high mountains. My surprise was complete when I saw those rivers, wonderful wild rivers with lovely hard fighting trout.
This is a typical scene in La Rioja. High mountains, steep valleys and wonderful tumbling rivers with trout enjoying life in the fertile waters. Many different insects abound. In their slower reaches damsel fly is common, whilst in the fast streams it is the caddis that is king. Local artificials are often tied with the Coq de Leon feather that is beautifully marked to imitate the insect.
There are many nice things that I could say about La Rioja region, however it is the people that make it such a wonderful place to visit. They are friendly and hospitable and they love to enjoy themselves. Visiting anglers need not be afraid to book a local guide, my experience of these guys is that they are excellent fly-fishermen and very skilled.
Playing a brown trout Rio Najerilla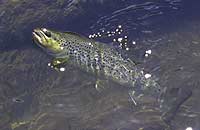 Rio Iregua brown trout
Trout in La Rioja are like those anywhere a wonderful range of colours and sizes. I have seen monster specimens of three kilos or more in some of the streams and lakes. Large trout are not easily caught - that is who they came to be large in the first place but what a wonderful challenge they are.
Finally a couple of fishing scenes from the lovely River Najerilla in La Rioja.
So next time the family say that they want to go to Spain for a holiday there is no need to frown, just smile and think of trout fishing in La Rioja and if that is not sufficient to tempt you, think of the wonderful wine that bears the same name, la Rioja.
For details of fishing in La Rioja contact Oficina de Turismo de Logrono http://www.larioja.org/turismo